Want a heat pump or AC but concerned about outdoor noise and space issues? This solution might work.
City codes and regulations were put in place for a reason. They help make our homes and neighborhoods safer, more comfortable places to live. However, as Seattle's residential codes and restrictions have grown more stringent, there can also be a cost. Not only can tougher codes and regulations make it harder for businesses to keep costs and prices down, sometimes it keeps homeowners from making desperately needed improvements to the efficiency and comfort of their homes.
One example of this is Seattle's residential noise codes. There are certainly excellent reasons these codes are in place. They help keep our neighborhoods quiet at night, and give residents a means of recourse when neighbors are making too much noise at night. However, there is an unfortunate casualty of Seattle's strict noise codes. Seattle's small lot sizes, combined with stringent noise codes, make it extremely tough to install a high efficiency central heat pump or air conditioner in the city limits. Many times, there simply is no place to put a large compressor-bearing piece of equipment far enough from a property line that wouldn't violate Seattle's decibel limits. Many of these heat pumps can run in multiple speeds, limiting the noise they put out most of the time. The codes, however, only take their highest speed/sound output into consideration. This leaves many customers out in the cold (or in the heat in the summer time) when it comes to high efficiency heating and cooling.
The Solution
Luckily, thanks to recent improvements in heating and cooling technology, there is a solution that works a large majority of the time in these situations: high efficiency ductless heat pumps. Ductless heat pumps have several advantages that can help them fit on Seattle properties with tight property lines.
The Quietest Heat Pumps and Air Conditioners on the Market
When it comes to compressor-bearing units such as heat pumps and air conditioners, ductless heat pumps are the quietest solution available. In fact, when we show a ductless outdoor unit running in its lowest setting, customers sometimes struggle to tell if it is even on at all. It's that quiet. The sound output is so low relative to other solutions that many times a ductless heat pump is the only type of heat pump or ac unit that will work on a tight Seattle property.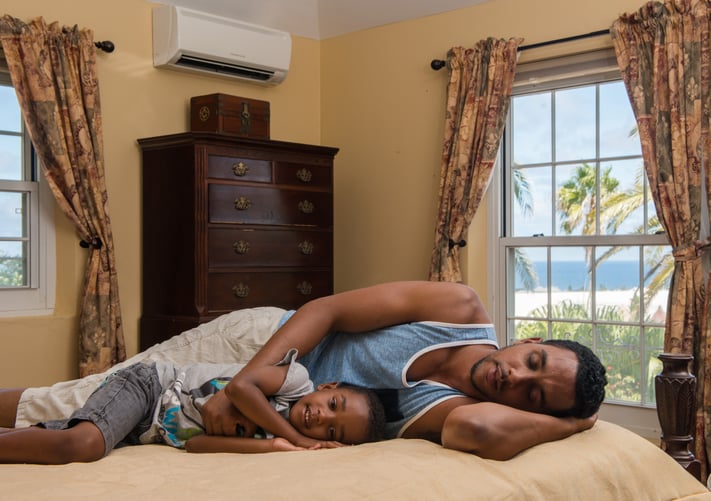 The Smallest Footprint
Ductless heat pump outdoor units are much smaller than their central heat pump/air conditioning counterparts. The footprint is vastly smaller than most central systems, meaning we can fit them in much tighter spaces, including side yards. It opens up many options that wouldn't be available without ductless technology. We can even hang them on an outside wall if there is no ground to install them on!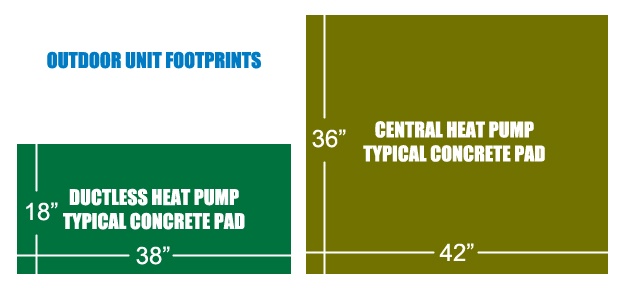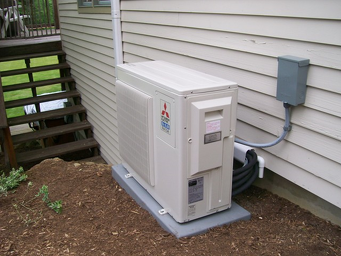 Conclusion
For Seattle homes with tight property lines, ductless heat pumps offer a wide range of solutions for both central heating and cooling as well as for homes with no ductwork. If you've been told in the past that you have no room on your property to add central air conditioning or a heat pump, it might be worth taking a look at ductless solutions.
If you would like to find out if ductless heating and cooling would be a good option for your home, give us a call at 206-763-1744. We offer free, no obligation consultations.