Perhaps you've heard about ductless heat pumps, but are wondering about their cost. What if I were to tell you that they may not even have a cost at all? In fact, depending on what kind of heating system you currently have in your home and how long you plan on living there, a ductless heat pump may actually provide you with a net gain each month!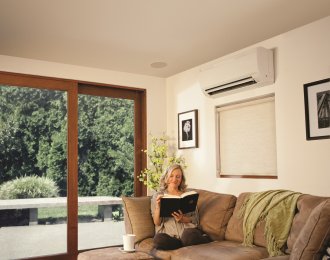 If you have zonal electric resistance as the primary source of heat in your home and you live in Seattle, Bellevue, Federal Way, or elsewhere in King County, you most likely qualify for a sizeable rebate of up to $1,500. You may also qualify for a federal tax credit of up to $300. If you were to have a single zone ductless heat pump installed, the rebate and tax credit could approach 50% of the install price. You would likely recoup the initial cost of the ductless system installation in just a few short years.
If you combine that with financing, however, things get really interesting! A ductless heat pump can save over 60% in energy costs over electric heat. Let's be conservative and assume you would save 50% instead. If your yearly heating bill averages out to $100 per month (many homes on electric heating average much more than that) then you would save an average of $50 per month on your heating bills.
It just so happens that the credit union we work with for financing can finance a ductless heat pump for as little as $50 per month, with no upfront costs! In this scenerio, you've upgraded your home's heating system and also added air conditioning for a net cost of $0 per month!
It is also safe to say that most homes with electric heat cost much more per year in heating bills. Many older homes less than 2,000 square feet in size with electric heat can cost $2,500 or more per year in heating bills alone. A ductless heat pump in a home like this would save the homeowner well over $100 every month. This means that financing a ductless heat pump would make money every month, even while making payments for the system installation. In essence, you would be getting paid to have a more efficient and comfortable system put in your home, and get air conditioning at the same time!
For more information about ductless heat pump financing, go to http://psccu.org or give them a call and ask them about their Energy Smart Loans.