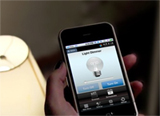 Have you ever wondered if you left the front door unlocked on your way out of the house in the morning? Or are you curious about what your pets do all day while you're not there? With a Nexia Home Intelligence system, you can have complete control of your home from anywhere in the world! Never again do you need to worry about what's happening in your home while you're away. Evergreen Home Heating and Energy is a Trane Nexia dealer, giving our customers low cost access to the expanding world of home automation!
Nexia Bridge

The Nexia Bridge is the workhorse of the system. It uses Z-Wave technology to communicate wirelessly with all of the Nexia-compatible components in your home, and through your home's network, communicates with the internet. With a small monthly subscription and the Nexia Bridge, a whole world of home automation and control becomes available to you!
Because all of the components are wireless, installation is incredibly simple. Simply sign up for a Nexia account, sync your components with the Nexia Bridge, connect the bridge to your router, and it just works! You can keep costs very low by starting with a small number of components and building your system piece by piece as you see fit.
Trane Nexia Z-Wave Thermostats

Have you ever gone on vacation and realized you may have forgotten to turn the heat down in your home? Or worried that your pipes are frozen because your heating system isn't functioning while you're away? With a Trane Nexia thermostat, worry no more! Using your smartphone, tablet, or computer, check in on your heating system from anywhere in the world. Or with the click of a button, tell your Nexia system that you're away from home and have it set the thermostat to the temperature of your choosing.
There are competing thermostats in the marketplace, such as the Nest thermostat, which also offer the ability to control them from a smart phone. However, NONE of them offer the ability to integrate with the Nexia system, which gives you access to a huge number of other home automation options. Typically for about the same cost as the retail price of a Nest thermostat, you can have a Trane Nexia thermostat AND the Nexia wireless bridge installed.
As a Trane Nexia dealer, Evergreen Home Heating and Energy (along with other Trane dealers) has exclusive pricing and availability on the Trane Nexia thermostats. It is included with many of the heating systems we install, helping you step into the world of home automation and control!
Door Locks, Cameras, Sensors, and Light Switches

Once you have your Nexia Bridge and Nexia account set up (starting at just $9.99 per month), it is extremely easy to start adding additional components to your system. Add cameras to be able to view and record video of your home to the cloud from your smart phone, or have the cameras automatically begin recording based on a custom automation you create. Add door locks to be able to access your home without a key, receive an alert when family members arrive home, or create temporary codes to grant access to service professionals or delivery people. Sensors, such as motion sensors or window/door sensors, bring you additional peace of mind as you can set them to send you an alert or trigger automations if they detect any activity in your home. Appliance modules and wireless switches allow you to control lights and appliances remotely, or create custom automations to automatically turn on lights when you arrive home, or when you're away from home.
As a heating and air conditioning contractor in Seattle, it is Evergreen Home Heating and Energy's mission to remain on the cutting edge of home technology, helping Western Washington residents become as comfortable and energy efficient as possible. Offering the Nexia system to our customers is the next step in that process. Welcome to the world of home automation!