It's a beautiful thing when you can make a major upgrade to the comfort and efficiency of your home and get it for free, or in some cases actually be paid for it! I know it sounds like a gimmick. The thing is, ductless heating is extremely efficient and cost-effective, and many homes in the Puget Sound area have severely inefficient heating systems. Combine these factors with financing as low as 4.99%, and with virtually no up front investment you can be more efficient and comfortable and even have air conditioning while paying little to nothing each month! Depending on your current heating system, you might even net thousands of dollars a year by switching to ductless without paying anything up-front.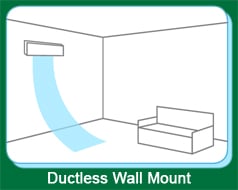 Let's look at an actual home with electric baseboard heating as an example. This home is 946 sq. ft. with a single floor of living space and an unfinished basement. Using our specialized software, we calculate the estimated annual baseboard heating costs to be $1,569. If we were to install a 2-zone ductless system in the home, the estimated annual operating costs would be $900, or an average monthly savings of $55.75. This includes the yearly air conditioning costs! Combined with a $1,200 utility rebate (all of the local utilities are offering this rebate) and low-interest financing for as low as $57.84 per month, and you're looking at an average monthly net cost of $2.09! So you've added a highly efficient and comfortable system with air conditioning for only $2.09 per month, with no upfront costs!

The numbers get even more ridiculous if we were to install a single-zone ductless system in this home instead of a 2-zone. The estimated annual heating and cooling costs for the single-zone system would be $753, or a monthly savings of $62.75. With the $1,200 utility rebate and financing, the monthly payment on the single-zone system would be as low as $50. You would end up with a net of $12.75 in your pocket after adding an extremely efficient comfort system with air conditioning! And again, no upfront costs!

If we take a look at a home with a heating oil furnace, the numbers become almost unbelievable. For this example, we will use an actual 1800 sq. ft. home with a finished basement. Because this home is quite a bit larger than the last, we will look at replacing the home's oil burning furnace with a 3-zone ductless system. The estimated yearly fuel costs for the oil furnace at today's oil prices would be $3,927, or an average of $327.25 per month. The estimated operating costs, including heating, cooling, and maintenance, of the 3-zone ductless system would be $846, or a monthly average of $70.50. This system could be financed for as low as $86 per month. So in a nutshell, if this home was converted from an oil furnace to a 3-zone ductless, with virtually no upfront cost, the homeowner could receive an average net gain of $170 per month, or over $2,000 per year! Again, this includes all of the financing costs (principal and interest) of the system.

With these types of numbers it's amazing that there are any oil furnaces left in the puget sound area!