One of the big concerns people have about ductless heat pumps, and heat pumps in general, is that they might not work when temperatures get really cold outside. While it is true that heat pumps will put out less BTU's of heat as outdoor temperatures drop, it's not as big of a concern as you might imagine. This is especially true here in Western Washington, where our weather is mild for a vast majority of the time.
Ductless Heat Pumps Work Much Better In Low Temperatures Than You Might Think
Recently our Daikin representative sent me a couple of pictures that demonstrate just how well Daikin ductless heat pumps perform in low temperatures. I have included the pictures below.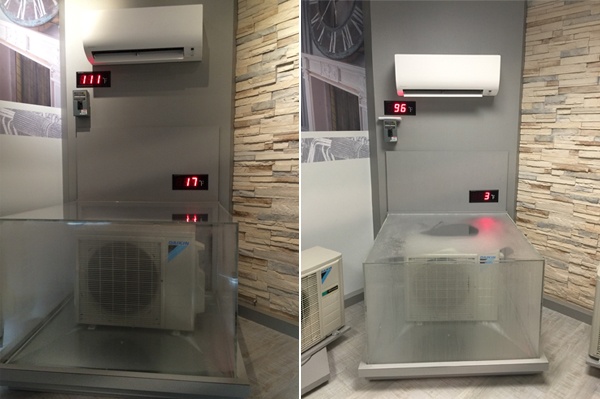 These pictures were taken in the Daikin showroom in Houston, Texas. A Daikin 19 Series outdoor condenser unit was placed in a climate control box, with an indoor unit installed above. In each image, the lower LED number shows the temperature in the control box, simulating the outdoor temperature. The upper number shows the temperature of the air coming out of the indoor unit. As you can see, when the outdoor temperature is only 17, the indoor unit is still putting out 117 degree air. When the temperature is just 3 degrees outside, the unit is still putting out air at 97 degrees!
In Western Washington, We Rarely See Temperatures at or Below 27 Degrees
The reality is that here in Western Washington, we never see temperatures as low as those in the images above. Because of our mild temperatures, we have one of the best climates for heat pumps in the country.
We Design Our Ductless Installations To Perform at 27 Degrees In Seattle
When we design our ductless installations, we take measurements of your home and determine how many BTU's of heat your home requires when it is 27 degrees outside. We then install the correct size of ductless system to perform optimally at that temperature for whatever area of your home is going to be covered by the ductless system.
There are 8760 total hours in a year. Of those hours, it is estimated that we only see around 44 hours at or below 27 degrees in Seattle. For those very few hours that it dips below 27 degrees, it might be a good idea to turn on a back up source of heat to keep it perfectly comfortable in your home. This could be as simple as getting a cheap space heater, just in case you need it for an hour here or there during the coldest part of the winter. For the vast majority of the time, your ductless system will work perfectly!