As a heating and cooling professional, from time to time I hear horror stories about work being done by unlicensed or unprofessional contractors. I just heard about one that occurred within the last month that I had to share with you.
This story happened to an unfortunate homeowner here in Western Washington. We'll call her Mary. Mary purchased a Goodman furnace and installation from Frank (also a fictional name), who told her he was a bonafied, licensed and bonded contractor. He showed up at her home in the morning and collected the funds for the furnace from Mary. He let her know he would be done installing the furnace by the end of the day, and that she shouldn't have any worries. She departed for the day, leaving Frank to complete his work. At the end of the day, this is what she returned to find: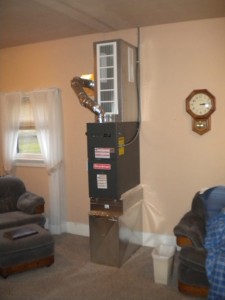 Her brand new furnace, installed right in her living room! Frank was even nice enough to install the furnace between her two living room chairs so she would have room to sit down! The furnace vents horizontally right through her living room wall. Frank was also nice enough to handle the electrical on his own. Turns out, not only is Frank not a licensed electrician, he isn't even a licensed contractor, having had his license previously revoked. This installation is not only an eyesore, it is highly unsafe and illegal!
Folks, this is what you run the risk of receiving when you let just anyone do work on your home. Make sure you thoroughly check out a contractor (assuming they even are a licensed contractor) before you agree to have them do any work. Here at Evergreen, we have been a licensed and bonded contractor since 1975. We fully guarantee all of the work we do.